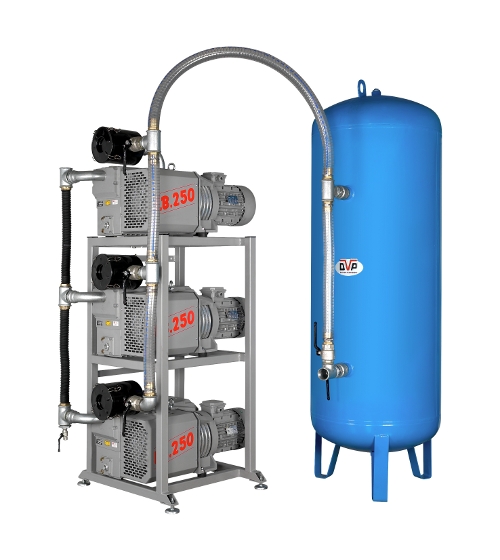 CPA 3Hx305/1000V VACUUM SYSTEM CPA 3Hx305/1000V
The pump-receiver groups series CPV have been designed for a wide range of application needs, and are available in various versions.
The centralized vacuum equipment models CPA are available in three different configurations SIMPLEX – DUPLEX – TRIPLEX depending on the number of pumps installed.
These products are equipped with control panel to control the pressure inside the receiver by guiding the pump starting.
The panels, developed according to European standards, also include the hour counter and pump wear balancing device.
Special units of antibacterial filters are also available with by-pass built according to EN ISO 7396-1 standard, for hospital use.
Information about: CPA TRIPLEX
CPA triple pump vacuum systems are primarily used as vacuum systems for hospital applications.
These groups have been developed to meet the specifications required by EN 737/3 standards.
The standard version of triple pump vacuum systems consists of the following parts:
Three lubricated vacuum pumps complete with oil separator exhaust filter at the outlet, mounted on an upright support to limit overall dimensions
Un serbatoio verticale in acciaio saldato a tenuta di vuoto completo di valvola di scarico condensa e di sistema by-pass per isolarlo dall'impianto
Tre valvole di ritegno integrate sull'aspirazione delle pompe per mantenere in vuoto il serbatoio a pompa ferma
Tre filtri a cartuccia tipo FCM per proteggere le pompe da eventuali impurità presenti nell'impianto
Tre valvole a sfera poste sull'aspirazione di ogni singola pompa per isolarla dall'impianto in fase di manutenzione
Due quadri elettrici di comando indipendenti (alimentazione standard 400V 50-60Hz) completi di interruttore generale bloccaporta, pulsante d'emergenza, protezione amperometrica, sensore di pressione, dispositivo di scambio automatico del funzionamento delle pompe in modo da bilanciarne l'usura, un vacuostato per allarme vuoto insufficiente e PLC, i quali permettono l'avvio e l'esercizio indipendente di 1 e 2 pompe in manuale e automatico e gestiscono tutte le operazioni di settaggio e controllo dei parametri di funzionamento. Entrambi sono racchiusi in cassette metalliche con protezione IP55
Una valvola a sfera a comando manuale posta sull'attacco del serbatoio per isolare l'intero gruppo dall'impianto
A GFB bactericidal filter unit with by-pass system may be mounted (upon request) between the isolating ball valve of the unit and the user system, as required by EN 737/3 standards.
All components are painted and mounted to make up a compact, reliable unit.