Pharmaceutical & Chemical
We specialize in cGMP handling equipment for use in the controlled environments of the Pharmaceutical, Fine Chemical, Healthcare and Biotech industries. The range includes Drum Tippers, Mobile Trucks, Vacuum Lifters for Sanitary environments handling sacks, explosive raw materials, chemical liquid in drums, etc. Tackling the powder infeed ergonomically provides operator protection and increases production efficiency in powder and blending areas. Dabtech offers customers the opportunity to acquire turnkey capability for powder charging, blending and discharging from one company.
Special Industry Requirements
• Handling of sacks, paint containers and explosive materials
Our Industry Solutions

• Wide range of suction pads suitable for pharma industry
• Suitable crane systems made from stainless steel or painted, with grounding connection
• Comprehensive range of accessories suitable for use in explosion-proof areas (including a quick-change system for rapid changing of the suction pads)
• Antistatic lifting tubes and feed hoses
• Available in stainless steel or in specially coated aluminium
Safety

• Meticulous testing of the components and assemblies by analysis of the ignition risk
• All documentation archived by the testing company
Certificates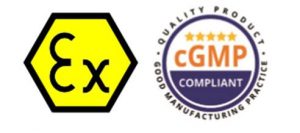 Product Enquiries
Experienced system consultants will help you design the vacuum solution to suit your industry-specific needs.
Your Contact for Enquiries