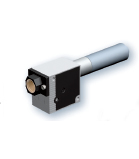 Modular vacuum pumps, GVP series
With the CIL series, COVAL introduces a new range of "just-plug-it-in" vacuum modules. The in-line CIL vacuum modules are mounted directly in the compressed air network, very close to the suction cup, without needing any additional fixing. Result: Gripping time is reduced while eliminating energy loss. With the "just-plug-it-in" connection and its optimal performance, the CIL module guarantees a reduction in assembly time as well as in installation and use costs.
Description
The GVP series vacuum pumps are the simplest in the modular range.
They exist in.
5 levels of suction flow rates (essential for evacuation time) characterized by nozzle diameter ( 1.2 to 3mm)
3 different levels of maximum vacuum:

Version X: 50% vacuum for very porous products
Version T: 75% vacuum for porous products
Version N: 90% vacuum for airtight products

For the same nozzle diameter, the suction flow rate increases proportionally to the decrease in the maximum vacuum level. In addition to suction cups, they can also be used for dosing liquid, spraying and tank depressurization.
Options
Vacuum switch: an optional vacuum switch function may be added in order to check the vacuum level when gripping. Ex.:GVO PSA100C, GVO PSP100
Accessories
VACUUM SWITCHES
Diffuser type silencer, SILGV series
Through type silencer, SILK series
Vacuum filters, FVI series
In-line vacuum filters, FVUM – FVUG – FVL series
Specifications
Silencers :
S : Diffuser type
K : Through type
Compressed air connection : 1/4 G BSPP
Vacuum port fitting : 1/2 G BSPP
Supply: non-lubricated filtered air; pressure 2 to 6 bar
Optimum pressure: 4 bar
Weight: from 100 to 265g
Materiel : POM – 2017A – Cu Zn
Temperature : -10 to 80 °C / 14 to 176°F