Combo Belts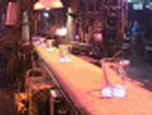 TUFF TEMP CORP. has recently developed two highly innovative breakthrough conveyor belts, that has been designed and engineered for the very hottest and most severe conveyance applications.
Known as our "Combo Belt" & "Blended Belt", these high-density, up to 5/16″ (8 mm) thick, 4-ply belts are woven with a blend of multiple specialty high temperature and abrasion resistant textile fibers (including Stainless Steel Textiles). By blending multiple specialty textile fiber types, TUFF TEMP is able to leverage the unique performance properties of each fiber to create an overall more durable belt that can withstand higher levels of temperature and abrasion.
TUFF TEMP "Combo Belts and "Blended Belts" are now being used in many of the world's leading Ovenware and Tableware plants, where ware temperatures are amongst the very hottest in the glass industry. Within these plants these new belts are already used to convey large and heavy ware types that still may be glowing red hot when contacting the belt. TUFF TEMP "Combo Belts and "Blended Belts" offers outstanding durability and performance in such applications, with unmatched belt wear life.